After having no success on my Palouse rifle tag i was a little bummed out. Had multiseason tag in my pocket and usually archery or muzzleload hunt anyways so i was looking forward to the opener. I killed my elk on the first day of the season on the westside and saw a 3pt blacktail that did not appeal to me whatsoever. Thanksgiving day i decided to hunt close to home for a morning hunt. Only saw one doe and found a shed.
Friday headed out bow hunting again with the father in law. Hunted hard all day in the SE part of the state and he ended up killing a nice tall 4x4 whitetail with a kicker. He doesnt want me to share pics :dunno: I ended up not getting one on this trip either and was getting a little worried i wasnt going to get my buck this year due to time and money. On Monday i gave a buddy a call and asked him if he wanted to go into Kahlotus on the last day to try to filll my tag. He said sure. On Thursday night he called me up and said we would take the boat. This excited me because i had been deer hunting on the river down there when i was younger during rifle season.
Friday morning arrived and we were a little late arriving at Lyons Ferry to launch. Got the boat in the water right as it was getting light. We headed down the river to our destination. When we arrived we headed up the hill and immediatly saw 2 bucks. 2 3pt mule deer that i didnt want to hang a tag on(i already had an elk and my second deer tag filled). We let them feed off and headed up the hill again. We saw a deer by itself up on the edge of a little ravine, snuck up to 150 and it was a nice whitetail, i got rested on my pack, settled in and BOOM! miss! Away he ran unharmed, walked over to make sure, no blood. Kept hunting saw a few more little mule deer bucks then around noon saw another whitetail buck, of course i missed again! I dont think God wants me to kill a whitetail!
After hiking all day we were worn out and decided to head back to the boat, about halfway back around 4pm i spotted another deer, looked in the binos and it was another whitetail! Snuck down to him and got to 130 and he spooked and ran to 150 and stopped, i shot and hit him, reloaded and went to look where he went. Saw him again standing at 200, i held high and shot and hit him again. He took off running again while i was reloading and ran into a little gully and didnt come out. We walked down to where we saw him go in and he jumped up righ out of the deep grass at our feet, i put another one in him and practically blew off one front shoulder. I started to reload again and watched my buddy run the deer down and tackle him and slit his throat! Wish i woulda had that on video! Snapped a few pics and started the drag back to the boat. What a day! Thanks for reading the story hope you enjoyed.
[img width=800 height=600]
[/img]
[img width=800 height=600]
[/img]
[img width=800 height=600]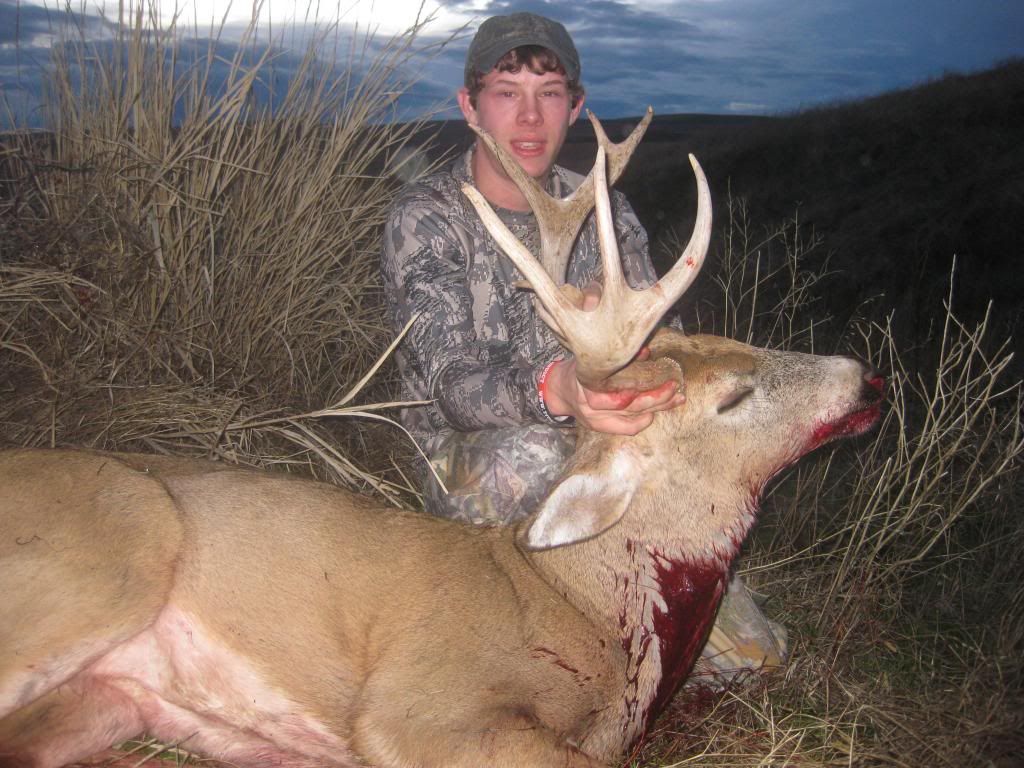 [/img]